---
---
RESTRICTED SALES ITEM
"ONLY FOR SALES TO LAW ENFORCEMENT AND MILITARY PERSONNELS"
Description:
The Portal Ladder is a unique foldable ladder that provides mission flexibility and versatility to tactical teams worldwide. This durable ladder can be deployed quickly, disassembled and removed from the scene in a matter of minutes. The sleek non-reflective black design makes this ladder ideal for night-time usage and is flame-retardant, non-conductive and UV resistant. Comes in 6', 8' ,10', 12', or 14' lengths.
Features:
Portable : A hand carry strap allows quick and easy movement through confined spaces. A backpack harness allows the ladder to be carried on an individuals back, leaving the arms and hands free to function at other tasks.
Adaptable & Versatile : The Portal Ladder, enhanced with swivel hooks, are being used for multi-story vertical scaling of buildings, tandem staging entry with multiple ladders, quick assault on first floor windows, over fences, and barricades...off-the-cuff applications for entry, clearing, and escape. Effective for inside building use where you want to avoid stairwells and other internal openings.
Night Use Capability : The Portal Ladders are so easy to deploy they can be effectively used in night time operations and even with night vision goggles.
Strength : The Portal Ladder is manufactured from cast aluminum alloy for the frame, extruded aluminum alloy for the rungs, and stainless steel connecting pins. The 12' Portal Ladder has been tested to meet the OSHA/ANSI strength and weight standards for a Class 1A working load rating of 300 pounds.
Lightweight : The Portal Ladder is light and easy to carry with the 14' Portal Ladder weighing slightly more than 36 pounds and the versatile 12' length at 31 pounds—light enough for a soldier to carry in battle.
Reversible : The unique top foot/bumper allows the Portal Ladder to be set up and climbed in either direction making deployment in low light or harsh conditions easier.
Muted Labels : The Portal Ladders are now marked with muted color labels to meet the Military requirements.
Compact: The Portal Ladder in the folded position carries like a large briefcase or on the unique open style Back Pack to make transporting the ladder even easier and with out interfering with the soldiers arms and hands. A 12' Portal folds down to 2 feet wide, 14 inches high, and 4 inches thick. It can be easily stored in a small vehicle or a small compartment. Likewise, the job of moving a ladder from place to place is efficient due to its compactness, and ease of carrying by hand or backpack.
Quick Retrieval & Rapid Deployment : The Portal Ladder is deployed for use in less than 5 seconds. Carry into action by hand or backpack. Great for confined spaces or hazardous areas. Re-folding back to storage position is just as quick and easy. Suited for two man deployment in confined spaces or on uneven terrain.
Multi-Story Access : By adding the Swivel Hooks (see Accessories) the Portal Ladder can now be suspended vertically from a higher opening or roof edge. Multiple ladders can now access much higher objectives. (Ladders are not joined together.)
NATO Stock Numbers (NSN) : Portal Ladder – 5440-20-000-8779 Portal Ladder Kit – 5440-20-001-9487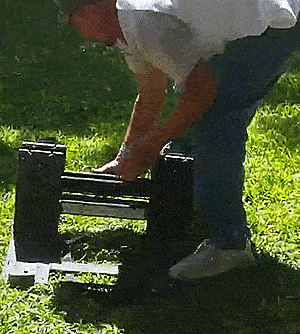 The Portal Tactical Ladder comes in many different sizes, including 6', 8' ,10', 12', or 14' lengths. The 12 foot version of the ladder weighs just 31 lbs, which is light enough for a soldier to easily carry into battle.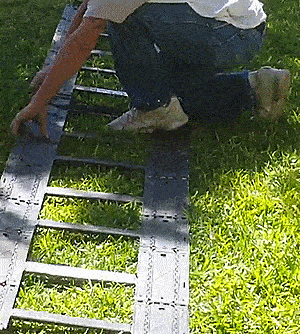 The tactical collapsible ladder is made from cast aluminum alloy and extruded aluminum alloy, and meets OSHA/ANSI strength and weight standards for a Class 1A working load rating of 300 pounds (12 foot version).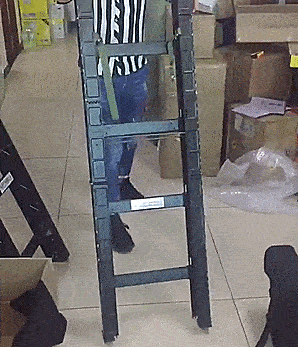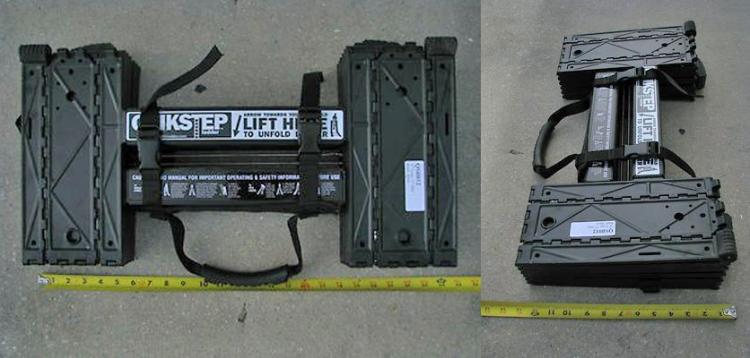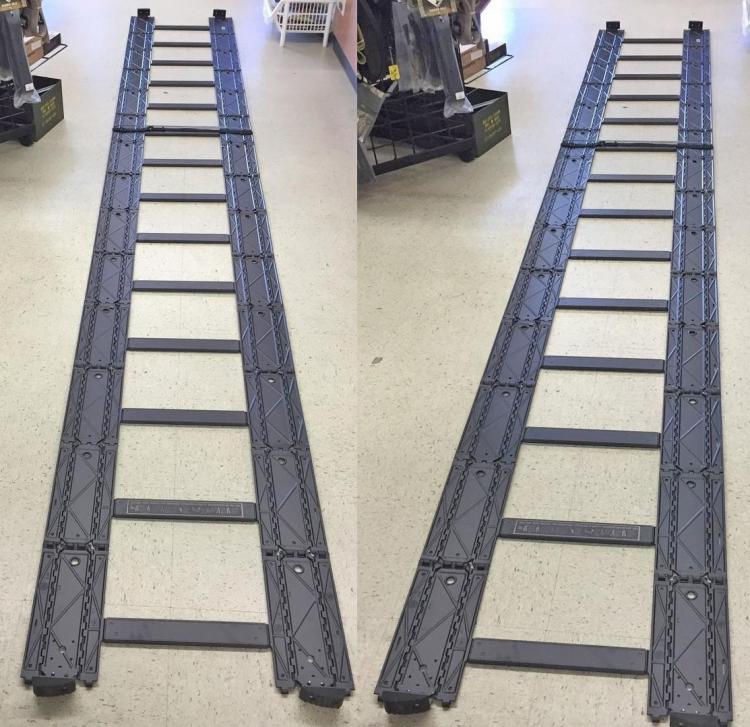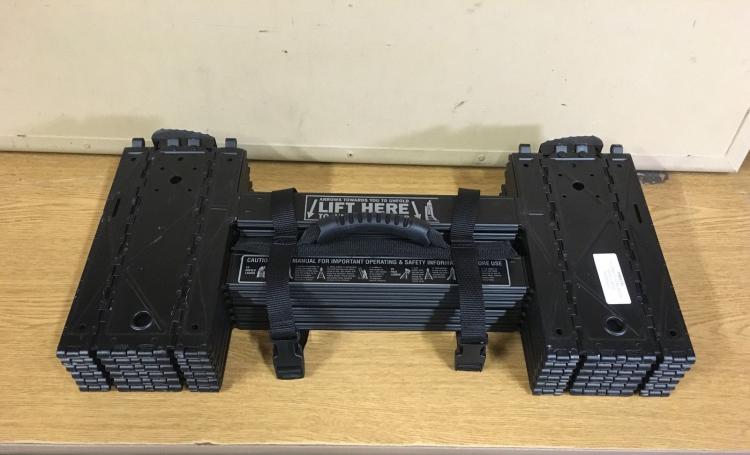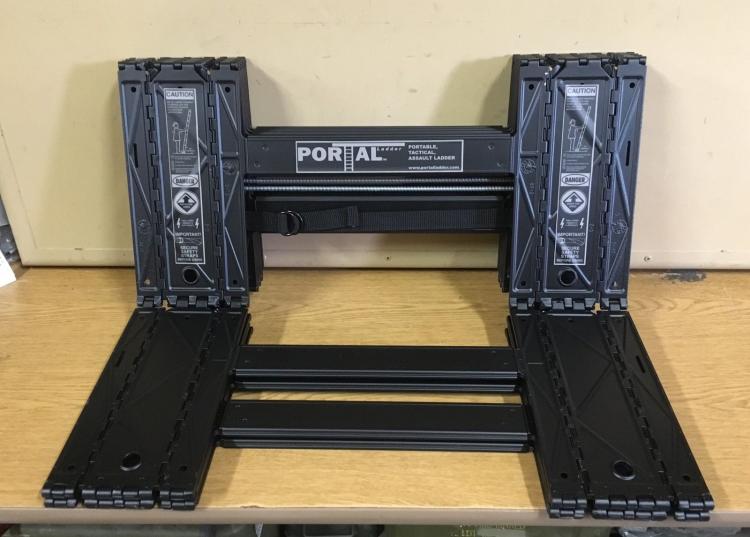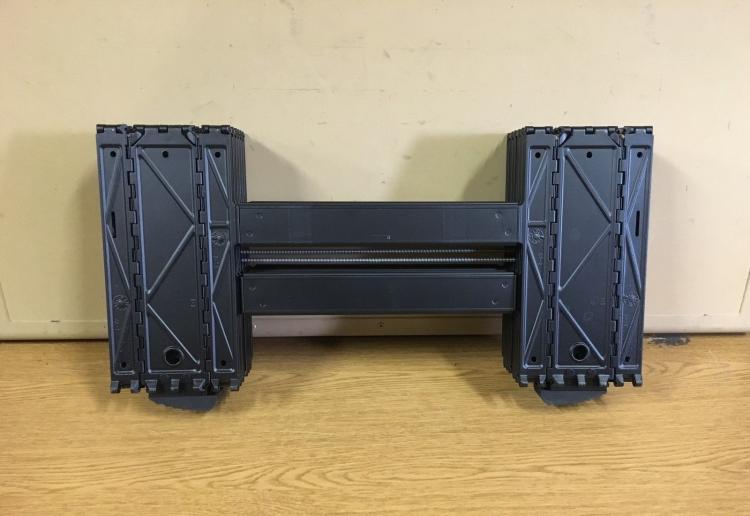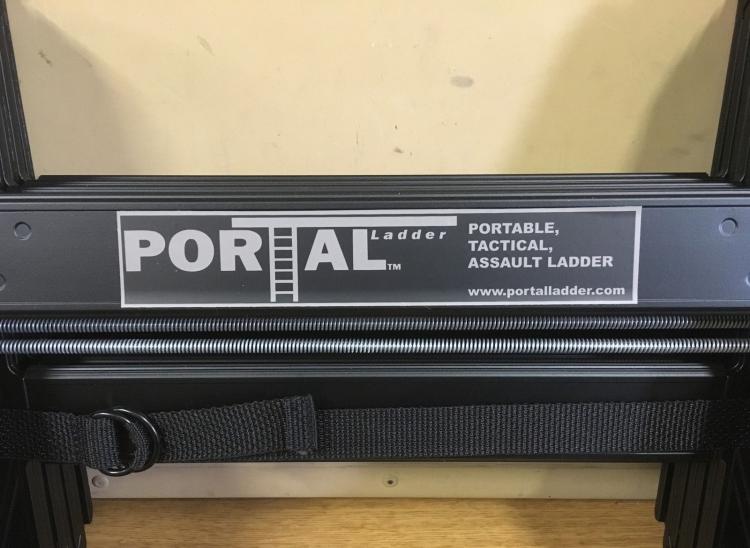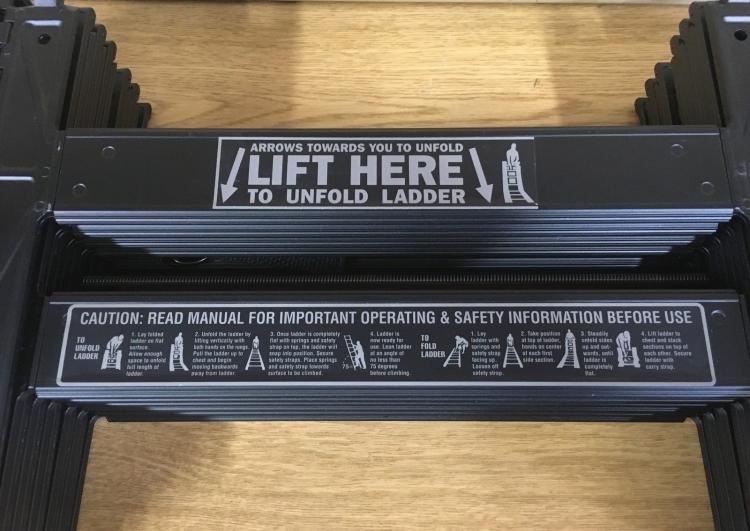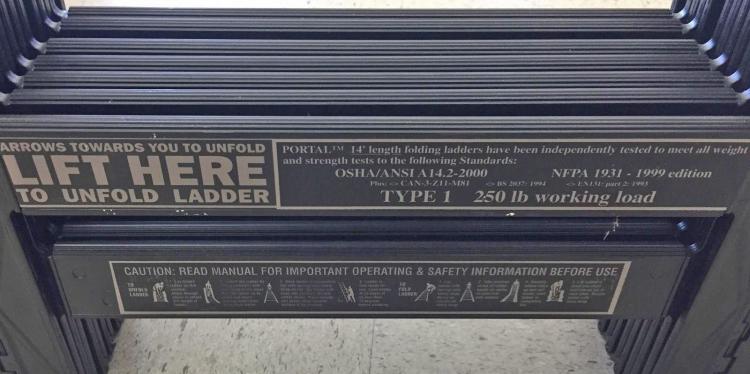 ---